Live Music – A Passion Project
Attending live concerts in one of my favorite things to do in the world.  Music is a passion of mine and I seem to find something redeeming about every show.
This definitely started when I was a kid.  My parents were into music and the first show I can remember them taking me to was Rosenshontz. There was always a guitar in the house and I remember begging my Dad to play The Garden Song, my favorite Rosenshontz tune.  I haven't heard that song in 20 years so it was crazy that I just dropped their name into Google and there it was.  You can listen here.
Bad Bad Leroy Brown and Country Road were two others that I remember my Dad playing whenever I convinced him to break out the guitar.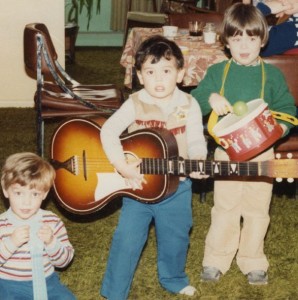 The other music related event that I remember from my childhood was meeting the Shirelles.  They played my grandfather's restaurant/club and one member of the group put me on her lap as they sang.  This was special for my parents because they had seen the Shirrels many years earlier on their honeymoon in Bermuda.  You're probably familiar with their song "Will You Still Love Me Tomorrow."
The next show I remember was composer Marvin Hamlisch (one of only ten people to win an Emmy Award, Grammy Award, the Oscar and Tony Award) at the Garde Arts Center in my hometown of New London, Connecticut.  He is best known for composing the score the Broadway musical A Chorus Line.  Now that I looking back, I guess the mix of Rosenshontz, folk guitar, Mowtown and Broadway explains my eclectic taste in live music.
Around the same time I was wearing out the cassette deck with an equally eclectic mix of  MJ's Thriller, Culture Club and a Springsteen 3 cassette box set.  I remember bedazzling my own MJ glove, rocking spiked bracelets and dancing along with Breakin' 2: Electric Boogaloo and trying to sneak a peak at MTV whenever I could.    I wasn't allowed to watch MTV so according to my Mom I changed the contrast on the TV so the picture was gone but you could still hear the sound.  I guess my rationale was that she said I couldn't "watch" but she didn't say anything about listening.  So rebellious….

Unfortunately I don't have ticket stubs for any of the shows I've mentioned so far, but I eventually started saving them.   It' fun to look back and think about the different performances, venues and experiences.
So with that in mind, I'm going to share some thoughts on each concert in chronological order.  It's mostly a way for me to document and remember each show before I forget all the details, but hopefully I'll hear from you and learn about your favorite live shows.
blog comments powered by

Disqus