Stefan is a 'dealer of things vis SMS.' Send him a message to join the club and he'll text you a few times a week with random products and content. You can even purchase things directly through text (using Stripe). The entire experience takes on a humorous tone and a personal touch.
What's in a name? Here's how Stefan describes it:
"I think everyone's got the makings of an alter ego inside their head. We all have fantasies of doing stuff like leaving our job, buying a motorcycle and heading for South America to be a writer or a photographer while learning a language and befriending locals. But it usually stays inside our heads. I want to help bring that out and inspire your alter ego through the unfiltered things inside my head, because that's where things get interesting. It might get a little weird sometimes but I'm just doing what's right for your alter ego. I hope you say, "Stefan is a peculiar bro. But I like him. And I like my new alter ego Todd, too." Don't name your alter ego Todd. Sorry if your name is Todd."
Fun, right?  What till you see the emojis.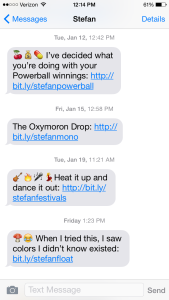 I'm surprised there aren't more text-based businesses out. Have you discovered any worth joining?